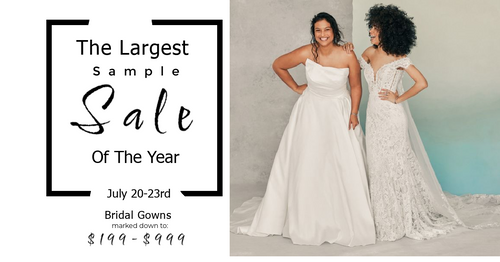 Bridal Gown Sample Sale: July 20-23rd 2022
All off the rack Bridal Gowns will be marked down 40-80% off!
+Appointments are 1 Hour
+Gowns range from $199-$999
+Pick up to 5 gowns to try on!
+Sample Sizes range from size 8-24W
Special order gowns are not included in this sale. This sale is off the rack gowns only. Appointments are limited! Make sure to book an appointment on our website for this sale and Select Bridal Gown Sample Sale!
In-Store Gowns
We have hand picked the top styles and quality for your perfect fit! We have a new Bridal Suite area that can be reserved for your bridal party to have a private viewing area by booking an appointment on our "Book Your Appointment" Tab. *Please note- This is only a small snapshot of the gowns we have in-store. We currently have over 95 gowns for you to choose from and new arrivals always on the way! Sample sizes range from size 6-22. Gowns available for order range from $900-$2500. Off the rack samples range from $399-$999